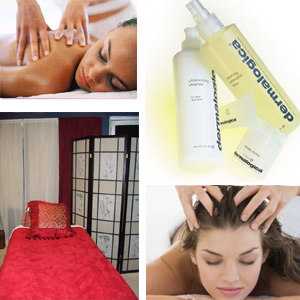 Packages
The Spa Pierman:
The perfect de-stressor. An ultimate full body massage customized to detoxify or de-stress the body. Includes a foot bath, paraffin of hands and feet, manicure, pedicure and facial.

3 hours and 30 minutes....$225
Rejuvenation:
25 minute facial, 25 minute Lomi Lomi, 25 minute reflexology, plus eyebrow arch, and rejuvenating foot masque.
1 hour and 20 minutes....$125

Escape to Serenity:
Ultimate treatment includes facial, manicure, pedicure and full body massage. Choice of body treatment.
Approximately 4 hours...$325
Romantic Couples Massage:
The perfect gift to share with someone you love. Includes: Candles • Dozen Roses • Truffles • Sparkling Beverage
1 hour and 30 minutes..$225
Massage
Heal your mind and relax your body with one or a combination of the following techniques.

Deep Tissue:
Strong and muscle penetrating to alleviate
tightness and strain. Lomi Lomi: Hawaiian inspired " dance
of massage" incorporates long, flowing, rhythmic movement.
Shiatsu:
Japanese acupressure applied to specific points to
release muscular tension.

Swedish:
Alleviate stress with this classic and timeless favorite of light, flowing movements.
Reflexology:
Ancient oriental method of massage is applied to pressure points on the soles of the feet that correspond to internal organs of the body.
Hot Stone:
Placed on key pressure points in conjunction with Reflexology and
lymphatic drainage for complete face and body relief (extra $10 charge with any hour and 30 minute massage)
Hourly Massage:
30 minutes...$40.00
1 hour..........$66.00
Deep tissue..$77.00
1 hour and 30 minutes...$95.00

Duo Massage:
Experience it with a friend. 1 hour...$140.00
BODY TREATMENTS
All treatments include a relaxing scalp massage, foot bath and luxurious foot scrub.
MLis Inch Loss Wrap
Body Mud
Body Salt Glow
See description of each service in more detail below:
MLis Inch Loss Wrap

Great for special occasions. Lose up to half a dress size in one wrap. Detoxfies and decreases cellulite.

1 hour and 20 minutes...only available ala cart $85.00

Body Mud

You'll be yelling "more mud" as you emerge from this treatment renewed and energized. Full body exfoliation, followed by active mud that penetrates skin for intense hydration, stimulating and refining skin texture.

1 hour...$95.00

Body Salt Glow

Enhance the youthful, healthy glow of your skin. Increases blood circulation, smoothes, softens invigorates and rejuvenates the entire body. Creates a deep pore cleansing from shoulder to toe. 1 hour...$85.00